Our Project Vision
Brockville's New Railway Tunnel Park
Canada's First Railway Tunnel was completed in 1860 for the Brockville and Ottawa Railway and later owned by the Canadian Pacific Railway until being acquired by the City of Brockville in 1983. Our historic Tunnel is a remarkable example of Canada's pre-Confederation industrial heritage that our innovative restoration project has repurposed for recreation, tourism and economic development.
At 525 metres (1722 feet) long, the Tunnel now features a smooth concrete travel surface and state-of-the-art energy efficient LED lighting. A programmable light show highlights the Tunnel's engineering, architectural, and geological features.
It also features a state-of-the art sound system; safety, security and fire protection systems; rest areas and benches; a ventilation system; wayfinding and education signage; and public wi-fi access. Canada's First railway Tunnel is now a bright, smooth, safe and fully accessible experience for all ages!
The north end gorge features a paved accessible ramp to enable pedestrians and people using wheelchairs to travel through the Tunnel south to Armagh Sifton Price Park at Brockville's waterfront.
The Tunnel also offers a unique exciting venue for community special events and festivals, such as exhibitions, receptions, dinners, parties, dances, performances, charity walks, races, and marathons.
Restoration of the Tunnel formally commenced in the summer of 2016 in order to complete the first phase of railway Tunnel park as part of Brockville's Canada 150 birthday celebration. The opening of the Tunnel and north gorge was held August 12, 2017, highlighted by a parade and opening ceremonies as part of the City's Rails to Trails festival.
The phase 1 project was funded in part by a special capital fundraising campaign. Interim financing was provided by Infrastructure Ontario and was being secured by donations pledged to date. There is still a need to finish raising capital for phase one, prior to phase two being started. If you wish, you may donate on line HERE and request that your donation be used towards the outstanding phase one capital project.
Canada's First Railway Tunnel and Railway Tunnel Park has attracted more than 30,000 visitors annually – both local residents and tourists – and complement Brockville's other downtown and waterfront attractions, such as Blockhouse Island, Tunnel Bay marina, Thousand Islands boat cruises, Aquatarium, the Brockville Museum, the Brockville Arts Centre, Rotary Park, King Street shopping and dining, and the Fulford Place Museum. Railway Tunnel Park will add to the reasons for people to visit and move to Brockville.
The City of Brockville Railway Tunnel Committee's vision for Railway Tunnel Park includes:
Redevelopment of the former railway "Gorge" property north of the Tunnel
Proposed redevelopment of the former Grand Trunk Railway/Canadian National Railway property west of the Tunnel and Gorge
Proposed improvements at our existing Armagh Sifton Price Park, south of the Tunnel.
We hope that Canada's First Railway Tunnel will become the new central hub of Brockville's scenic Brock Trail Recreational Pathway. As an active, exciting place for children, youth and their families, the Tunnel will enable pedestrians to connect from the Trail at the city's waterfront, through the Gorge and under the bridge under the CN rail corridor, to other sections of the Trail running to the city's north and west. The Tunnel, Gorge and Brock Trail will allow visitors to travel from the St. Lawrence River all the way to the Mac Johnson Conservation Area 7 km north of Brockville.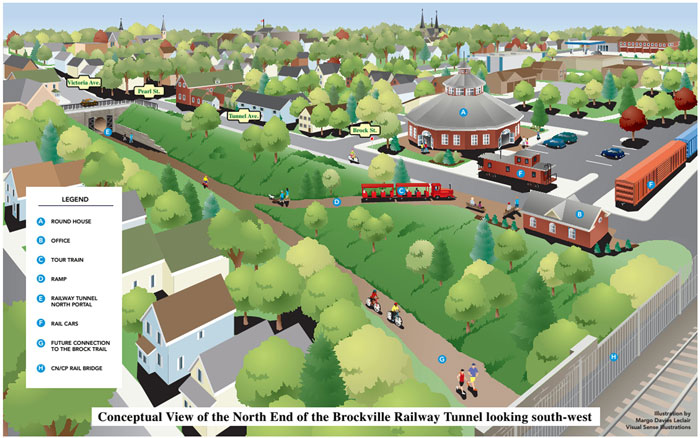 Future phases of Railway Tunnel Park include proposed redevelopment of the former Grand Trunk Railway lands, west of the tunnel and south of the CN corridor, with a proposed new roundhouse-style visitors centre with public restrooms. In addition, a tour bus and car parking area is being considered and various improvements are proposed for Armagh Sifton Price Park, south of the tunnel. These future phases are conceptual at this stage and will proceed only when funding and council approvals are received.
Concept Drawings
The following concept drawings were unveiled in early 2015 to illustrate the City of Brockville Railway Tunnel Committee's vision for Railway Tunnel Park:

Gorge rehabilitation
The north end of the tunnel includes a gorge that still requires enhancement.
When sufficient donations have been acquired, this will become part of the city's pedestrian trail system, known as "The Brock Trail".