Brockville celebrated:
the opening of Canada's first Railway Tunnel and Canada's 150th birthday with a...
Parade
Tunnel Opening Ceremonies
A "Rails to Trails" Festival
all in conjunction with Brockville RibFest
The Parade
Date: Saturday, August 12, 2017
Parade Start: 10:30 AM
Parade Route: Court House, West on Church, South on John Street, East on King, South W. Market
The route was the same as used for the parade celebrating the laying of the Tunnel's corner-stone in 1854. A huge crowd celebrated Canada's 150th birthday and the re-opening, from end-to-end, of Canada's 1st Railway Tunnel. The parade included many identities of the original parade PLUS many of Brockville's tourism highlights.
Tunnel Opening Ceremonies
Following the parade, tunnel opening ceremonies were held at the tunnel's south portal in Armagh S. Price Park at Brockville's Tunnel Bay area.
The tunnel restoration has been underway since August, 2016. Brockville residents and visitors can now walk end-to-end in a clean, well-lit environment and on a concrete pathway. The creative concept of the dynamic Philips Architectural Lighting System highlights the inner beauty of the tunnel and transforms it into a stunning visual walkway. The restored tunnel celebrates Canadian history and provides a unique experience by the running of the "Philips Light Show"!
The character of the tunnel will remain. The north and south portions are beautifully lined with stone and the center section is still open with craggy rock surfaces where the early contractors blasted through the solid granite.
Rails to Trails Festival
Many thanks to the Rails to Trails Festival for adding many downtown activities for the tunnel's opening weekend!
RibFest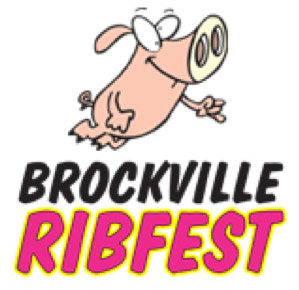 Ribfest 2017 provided the weekend "Kitchen" for our visitors, organized by Big Brothers Big Sisters! Another great way to enjoy the weekend!