Brockville celebrates:
the opening of Canada's first Railway Tunnel and Canada's 150th birthday with a...
Parade
Tunnel Opening Ceremonies
A "Rails to Trails" Festival
all in conjunction with Brockville RibFest

The Parade
Date: Saturday, August 12, 2017
Parade Start: 10:30 AM
Parade Route: Court House, West on Church, South on Perth, East on King, South W. Market
The route is the same as used for the parade celebrating the laying of the Tunnel's corner-stone in 1854. Come celebrate Canada's 150th birthday and the re-opening, from end-to-end, of Canada's 1st Railway Tunnel. The parade will include many identities of the original parade PLUS many of Brockville's tourism highlights. AND a number of BANDS! Yes, if you like music, you will love the multiple bands being lined up. There will be something for everyone; history, music, tourism, first responders, fun, clowns, contractors .. and more.
Tunnel Opening Ceremonies
Following the parade, tunnel opening ceremonies will be held at the tunnel's south portal in Armagh S. Price Park at Brockville's Tunnel Bay area.
The tunnel restoration has been underway since August, 2016. Once complete, Brockville residents and visitors will be able to walk end-to-end in a clean, well-lit environment and on a concrete pathway. The lighting will be spectacular and interesting as the latest, programmable, multi-coloured lights will be used along the walkway.
The character of the tunnel will remain. The north and south portions are beautifully lined with stone and the center section is still open with craggy rock surfaces where the early contractors blasted through the solid granite.
The Opening Ceremony Will Occur: Saturday, August 12, 2017 At 11:30 AM (Approx.)
Following the opening ceremonies, everyone will be able to proceed through the tunnel, as many times as you wish.

Rails to Trails
In celebration of Canada's 150th birthday, Brockville will hold a Rails to Trails festival. Various aspects will be located around the Tunnel's south portal and Blockhouse Island areas at: Armagh S. Price Park; Ferry Street; the Reynolds Coal Parking area; the Water Street Parking area and Tunnel Bay.
Featured will be the Ontario 150 Tour including West Coast Lumberjacks and Rhythms of the Nation … and … the World's biggest Rubber Duck.
Rails to Trails will run: Thursday through Sunday August 10 – 13, 2017
Come join the fun; parade, tunnel opening and Canada 150 celebrations.

RibFest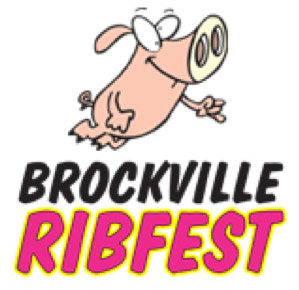 The weekend "Kitchen" is Ribfest 2017, being brought to you by Big Brothers Big Sisters. Come watch the Tunnel opening and Canada 150 parade; then take part in the Tunnel opening ceremonies, including being one of the first to walk through the rejuvenated Canada's First Railway Tunnel. Then drop over to Hardy Park for a great RibFest lunch or dinner … or both!
RibFest will operate at Brockville's Hardy Park:
Thursday through Sunday August 10 – 13, 2017
Check the Brockville RibFest Web site for times when the ribbers will be serving: biggerevents.ca/brockville-ribfest