Tuesday, October 04, 2016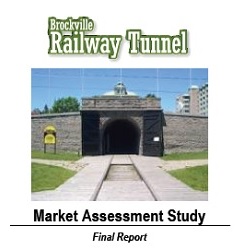 A 2013-2014 Market Study Assessment performed by TCI Management Consultants indicates a potential economic impact of 1.1 million annually for the Brockville area.
Market Assessment cover In August 2013, following a public tendering process, TCI Management Consultants was retained to undertake a market assessment study for the Brockville Tunnel, Canada's first railway tunnel and a key historical asset of the City of Brockville. The assignment was to undertake a market assessment review of the tunnel as an attraction and determine the broad financial implications of use of the facility by the target markets identified.
The first phase of the analysis demonstrated that the tunnel attraction could be a worthwhile community asset, and generate economic benefit to the community, but that there would be a need for some on-going subsidy and operating funding if the 'tunnel project' was seen just as an end in itself. However, if the tunnel is seen as a catalyst for the development of the property around its north end, then the entire project could generate net benefit to the municipality. Specifically the additional tax benefits generated by development at the north end would largely offset the operating deficit of the tunnel attraction. Phase 2 of the project was devoted in part to exploring this possibility in greater detail.
View the 38 page report here: Brockville Tunnel Market Assessment Report (pdf)